Minulou středu jsem se z e-mailu s nadpisem "refund instructions" dozvěděl, že mi nevrátí ani cent. Dneska zazvonilo DHLko a byl tady. Trvalo to sice rok a čtyři měsíce, ale nakonec dorazil. Většina přispěvatelů na indiegogo takové štěstí nemělo. Co že mi to vlastně přišlo?
Asi nemá smysl sem dávat specifikaci. Bylo by to jenom Ctrl+Cizí a Ctrl+Vlastní z http://jolla.com/tablet. V krabici byla kromě tabletu i brožurka se záručními podmínkami, návodem k použití a micro USB kabel na nabíjení. Trafo ale asi zapoměli (-;
První dojem je velmi dobrý. Je překvapivě tenký a lehký. Celkově je příjemný na dotek. Přední i zadní kamera v přítmí našeho domova poměrně dost šumí.
Efilinux loads any unsigned boot.img you hand it.
# ssh nemo@jolla-tbj
[nemo@Jolla ~]$ cat /proc/cpuinfo 
processor    : 0
vendor_id    : GenuineIntel
cpu family    : 6
model        : 55
model name    : Intel(R) Atom(TM) CPU  Z3735F @ 1.33GHz
stepping    : 8
microcode    : 0x821
cpu MHz        : 1826.000
cache size    : 1024 KB
physical id    : 0
siblings    : 4
core id        : 0
cpu cores    : 4
apicid        : 0
initial apicid    : 0
fpu        : yes
fpu_exception    : yes
cpuid level    : 11
wp        : yes
flags        : fpu vme de pse tsc msr pae mce cx8 apic sep mtrr pge mca cmov pat pse36 clflush dts acpi mmx fxsr sse sse2 ss ht tm pbe syscall nx rdtscp lm constant_tsc arch_perfmon pebs bts rep_good nopl xtopology nonstop_tsc aperfmperf nonstop_tsc_s3 pni pclmulqdq dtes64 monitor ds_cpl vmx est tm2 ssse3 cx16 xtpr pdcm sse4_1 sse4_2 movbe popcnt tsc_deadline_timer aes rdrand lahf_lm 3dnowprefetch ida arat epb dtherm tpr_shadow vnmi flexpriority ept vpid tsc_adjust smep erms
bogomips    : 2666.77
clflush size    : 64
cache_alignment    : 64
address sizes    : 36 bits physical, 48 bits virtual
power management:
Obrazovka s událostmi je rozdělená na poloviny. V levé části jsou události jako na telefonu a v pravé jsou akce, které jsou jinak schované ve stahovacím menu. Podobně je do dvou sloupců rozdělené i nastavení. Jediné co se mi zdá nedodělané je mřížka s aplikcemi. Ty velké okraje a rozestupy mi prostě nesedí.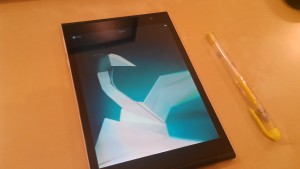 Tablet je, narozdíl od telefonu, postavený na procesoru od Intelu, který v sobě má ARM. To se ukázalo jako docela velký problém, protože vývojáři nejsou motivovaní svoje aplikace překládat pro jinou architekturu. Dokonce i werehouse klient pro openrepos je zabalíčkovaný někym jiným.
Při používání webového prohlížeče jsem zaznamenal párkrat ošklivé probliknutí při animaci. Zdá se mi že je míň stabilní než na telefonu. V každém případě mi dneska několikrát spadl.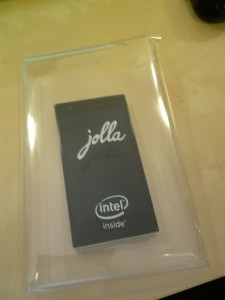 Z androidích aplikací jsem hned zkusil F-Droid. Ten zda se celkem spolehlivě funguje. Skype funguje, ale zkušební hovor na echo ukázal mizernou kvalitu zvuku. Videohovor jsem zatím nezkoušel. Navigaci HERE se mi sice podařilo nainstalovat, ale už jsem ji bohužel nespustil. Podobně to bylo s plachtařskou navigací XCSoar.
Jolla telefon používám každý den k telefonování, takže si nemůžu dovolit s ním moc expermentovat. Na tabletu snad nebudu tak uplně závislý. Jsem zvědavý jestli se mi na něm podaří rozchodit nemo nebo mobilní plasmu. A jestli uvidíte inzerát na aukru, tak to znamená, že se mi nepodařilo domluvit se s UEFI.