DevConf will be in two weeks so it is time to refresh my apps for that conference. This year I have new port of my mobile schedule for Android.
The Android app is ready in google play and I will be happy for your feedback (comments and commits). It should provide basic information about conference, offline schedule with ability to bookmark your favorite talks, maps, and news from conference.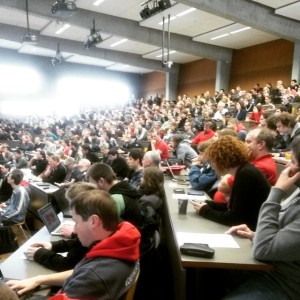 The map consist of venue map with room numbers and position of coffee, toilets, and other important waypoints. The app contains also map of the city with important points of interest. In the APK are pre-cashed 4 layers of OSM tiles. You should find your hotel even without internet connection (-;
The schedule is provided as a list and as grid. Unfortunately, the personal schedule is not connected to scheds.org one. I know this would be nice feature. I have this in my todo. Your help is appreciated. Search feature and list of talks by speaker would be also nice in future. I can imagine much more features. We will see. Maybe next year…
https://play.google.com/store/apps/details?id=cz.mlich.devconf
https://github.com/jmlich/devconf-android
In the end it should work with our Confla Conference management system, but time is running and we need to tune it yet.
Last year I had application for SailfishOS. I am still using Jolla as my primary device, therefore I didn't forgot to update this app. \o/ New features are venue map and grid view. Additionally, I am making an research how can I adapt it for fosdem. It looks doable.
https://openrepos.net/content/xmlich02/devconfcz
https://github.com/jmlich/devconf-sailfish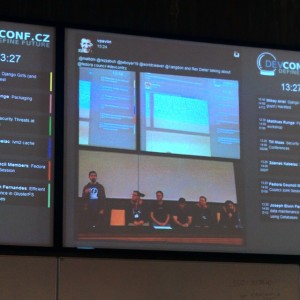 Last year I implemented also social wall. It will be running on tv screens in front of lecture rooms. It will show schedule and news from social networks. It aggregates tweets, google plus posts, instagram and flicker pictures with #devconfcz hashtag. This year I have added an fedmsg plugin. For now it adds articles from fedoraplanet. I tried to use also fedora badges, but it was probably to much social.
http://devconf.cz/wall/
https://github.com/jmlich/social-wall