Na brněnském srazu OpenAltu jsem snad zvládl všechny přesvědčit, že je to zařízení, které strašně chtějí, ale zároveň jsou rádi, že si ho nekoupili.
Když jsem se snažil spustit nastavení, tak mi to takhle krásně padalo: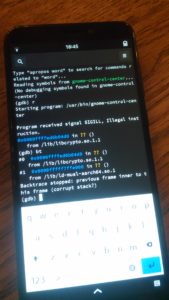 Co se týče Hardware, tak se mi úplně nelíbí USB3 konektor. Mám pocit že tam kabel dobře nedrží..
Continue reading

"Týden s PinePhone"